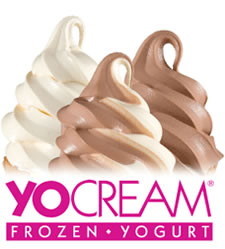 All Mine Frozen Yogurt is a locally owned and family operated business. Our desire is to provide Molalla with a local gathering place for the families, sports teams and church groups of our community.
Our atmosphere is designed to be casual and inviting. We've created a place where people will want to hang out with friends, and enjoy great tasting frozen treats.
Proud to Serve YoCream® Frozen Yogurt
All Mine Frozen Yogurt serves a rotating variety of soft serve frozen yogurt flavors from YoCream® International.  YoCream® takes pride in producing the gourmet frozen yogurt that America loves, right from their very own dairy.
YoCream® is one of the reasons All Mine Frozen Yogurt is so good you don't want to share! Their special recipe was developed to ensure a smooth and creamy taste.
Visit the YoCream® website for nutritional information.
Incredible Variety!
Our over 80 rotating flavors include a wide variety of Nonfat, Low fat, Sorbet (non-dairy), No Sugar Added (NSA), Greek, Premium and Tart varieties.
YoCream® is proud to have all of its products Kosher certified by The Orthodox Union.
Healthy!
YoCream® crafts their frozen yogurt with live and active yogurt cultures. YoCream's frozen yogurt meets the requirements set forth by the National Yogurt Association, and is proud to display the Live and Active Cultures seal on their products.