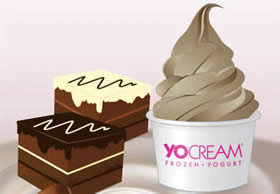 At All Mine Frozen Yogurt we always have at least 10 frozen yogurt flavors to choose from with lots of toppings to make your taste buds happy. Here's how it works:
Choose Your Flavors
Pick from 10 taste-tempting flavors and fill your cup with as little or as much as you want. That's the secret behind All Mine Frozen Yogurt, "It's so good you don't want to share," and you don't have to, there is plenty for everyone!
Choose Your Toppings
Here's where it gets really fun. With dozens of toppings and a nearly endless number of combinations, you can customize your frozen yogurt just the way you like it.
What kind of toppings do we have? Just about anything you can imagine, from crushed candy bars to fresh fruits, granola, nuts, sprinkles, hot fudge, caramel and the list goes on and on.

Weigh and Pay
Once you finish creating your frozen yogurt masterpiece, you simply weigh it and pay. Then it's time to sit and enjoy.
What Flavors are Featured This Week?
Visiting All Mine Frozen Yogurt is an adventure for your taste buds. We will always have chocolate and vanilla, but we will regularly rotate YoCream's yummiest flavors, too.
Just in case you are wondering what flavors are currently being featured (you know, planning your strategy), like us on Facebook to see what's in store!